Hi-Tech Equipment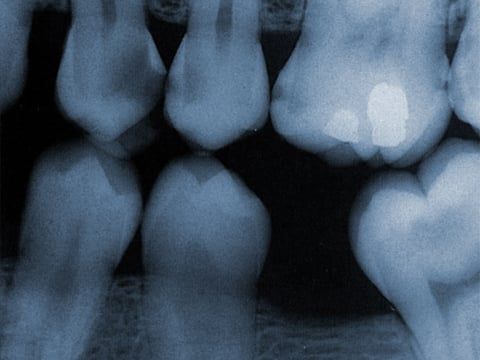 Our office uses the latest in digital x-ray technology. Digital x-rays offer a detailed image of your entire mouth and also offer up to 80% less radiation than traditional film x-rays.
X-rays play an invaluable role in the diagnosis of dental problems, as well as provide a clear picture for a dentist to accurately diagnose and provide the necessary treatment.
We place a small sensor in your mouth. The sensor is connected to a computer by a thin wire. Next, an x-ray beam is sent through your teeth and into the sensor, which records the image of your teeth and sends it to the computer. The sensor can then be repositioned to image other sections of your teeth.
The digital dental x-ray system is more sensitive than dental x-ray film systems, so your exposure to x-rays is cut by as much as 90 percent. The large and color-enhanced images let you see what your dentist sees, so it's easier for you to understand how your dentist will treat your teeth. Your dental checkups take less time, and it's fun to watch this system work! Most patients are amazed.
NewTom 3G offers the possibility to choose different fields of view (F.o.V). This allows the operator to have images with different resolutions, thereby fully covering the needs of the Periodontist, Implantologist, Orthodontist, Prosthodontist, Endodontist, as well as Oral and Maxillofacial surgery and ENT specialists.
Dr. Zayas, an Invisalign dentist in Miami Springs, often recommends an Invisalign procedure rather than traditional braces. Invisalign is the breakthrough technology that lets you have the smile you've always wanted without the hassle of braces. By using a series of clear, removable aligners, Invisalign straightens your teeth with results you'll notice sooner than you think. The course of treatment involves changing aligners approximately every two weeks, moving your teeth into straighter position step-by-step, until you have a more beautiful smile. And unlike conventional braces, these clear aligners can be removed while you eat and brush your teeth as usual. An average Invisalign course of treatment takes about a year.
The Invisalign Advantage Over Braces

When choosing an option for straitening your teeth, it's important to consider what works best for not only your appearance, but your lifestyle as well.

| Â  | INVISALIGN | BRACES |
| --- | --- | --- |
| Effectively treats a wide variety of cases, including crowding, spacing, crossbite, overbite and underbite. | X | X |
| Straightens your teeth | X | X |
| Average cost is about $5,000* | X | X |
| Allows you to eat whatever foods you enjoy | X | Â  |
| Lets you remove the device when you want | X | Â  |
| Lets you enjoy virtually invisible teeth-straightening | X | Â  |
| Allows you to brush and floss your teeth normally for better periodontal health | X | Â  |
| Consists of smooth, comfortable plastic instead of sharp metal that is more likely to irritate your cheeks and gums | X | Â  |
| Frees up your busy schedule, with office visits only every four to six weeks | X | Â  |
| Invisalign Teen: Provides up to six free replacement aligners if lost or broken.** | X | Â  |
* November 2010 Invisalign Patient Survey
** Invisalign Teen Only
Invisalign Website
Invisalign Self Assessment
We provide our patients with the luxury of Ultrasonic Scaling. It is more comfortable for patients and allows for the scaling process to be completed faster than having to 'scrape' tooth surfaces like the conventional scaling process.

The Pro-Select scaler features provides comfort for the patient with the following features:


- High-speed linear tip motion
- Light, lateral pressure that is quiet using minimal water in a light mist to increase patient acceptance
- Reduces the need for anesthesia for most patients
- Ability to deliver desensitizing agents during use
- Heated, subgingival irrigation, a soothing therapy after scaling and root planing billable therapy
- Effective for use on all adults - not just periodontal patients
- Safe for patients with pacemakers
Early detection saves lives. ViziLite Plus helps early detection.' Oral cancer is one of the most curable diseases when it's caught early. ViziLite Plus uses technology that has been proven successful in identifying other types of precancerous and cancerous abnormalities. It's particularly important for patients at increased risk for oral cancer. When early-stage oral cancer is found, treatment is simpler, less invasive and more than 90% successful. ViziLite Plus helps identify oral lesions sooner.
Rotadent is a rotary instrument that has patented microfilament brush tips designed to reach underneath the gum line and in-between the teeth. It removes plaque twice as fast as a manual brush and is superior to leading powered and sonic brushes. Rotadent is clinically proven to reduce harmful bacteria in periodontal pockets as well as gingivitis and decalcification during orthodontic treatment. Rotodent protects a patient's investment in high-quality restorative & cosmetic dentistry.
ATRIDOX (doxycycline hyclate) 10% is a major advancement in the treatment of periodontal disease. It is a locally applied antibiotic (LAA) that is placed gently below the gum line into periodontal pockets where bacteria thrive and cause infection.

Post Operative Atridox Instructions (English)
Post Operative Atridox Instructions (Spanish)
If you have periodontal (gum) disease, SRP is needed to help improve the health of your teeth and gums. Bacteria are the cause of gum disease. That's why your dental professional may recommend ARESTIN. It is an antibiotic that helps kill the bacteria at the root of the problem.

Post Operative Arestin Instructions(English)
Post Operative Arestin Instructions (Spanish)
One hour bleaching systems use a very bright light to activate higher bleaching concentrations to produce faster, more dramatic whitening results.
The technician will protect your mouth very carefully using cotton rolls, gauze and a liquid dam.
A special whitening lamp is used to activate the whitening gel for approximately 60 minutes.

Post Operative Whitening Instructions
Whitening your teeth at home often involves using a custom fitted mouth guard into which a whitening solution is placed. These custom fitted mouth guards will help protect your gums from irritation that occurs while using ill-fitted over-the-counter whitening mouth pieces. After the solution is placed in the mouth guard, it is placed over the teeth and left on for a few hours or overnight depending on the type of whitening solution. Ask Dr. Zayas if home whitening is right for you.